Amir Rashad, CEO, Centersource Technologies talk to International Trade Magazine about  how technology is changing the dynamics of global trade
International Trade Magazine catches up with Centersource Amir Rashad, CEO, Centersource Technologies to find out about emerging technologies in smart supply chains. 
Centersource Technologies is a supply-chain automation platform built by industry professionals with significant global experience, covering trade and related logistics activities from inquiry until goods arrive at buyers' place. Centersource is an independent digital platform and toolkit that automates the most time-consuming processes facing companies today including Export/Import, Logistics, Documentation, Analytics, Compliance, Accountability, Transparency, Visibility and lots more.
Centersource Technologies aims to digitise the global timber supply-chain, enhance cross-border collaboration and automate the most time-consuming process facing companies today.
How do you think Covid-19 has impacted the industry?
I think covid-19 has sped up digital adoption and interest by at least a decade, what was optional to operations is now quickly becoming a must have.
Covid-19 affects digital supply chain management in many aspects: automation of non value adding tasks, collaboration, tendering and negotiation, tracking cargo, accountability & risk management, shipping documents and analytics.
In reality as argued here, very little has actually changed in global trade:
"Despite the advancement of technology, surprisingly little has actually changed in global trade and most of all in the forestry industry. Essentially computers and the software within are just quicker versions of the same old tools like typewriters, fax, calculators and mail. The conveniences of modern technology have not delivered on automation of processes or their elimination to global companies. If anything, processes have become more complex and most surprising of all is that commodity traders profiting from information and geographic arbitrage are more than ever before. Technology should have automated processes, reduced the number of middle-men and enabled closer integration to various kinds of partners and institutions."
That is why smart supply chain management tools, smart risk management, smart collaboration and integrations are vital to the future of global trade and will become a unique sustainable competitive advantage for many companies.
In the industry, great effort has been put into maximising production and yield, and improvements over time are so good that now only 1% can be expected in production. However very little has changed for export, import, admin and logistics departments. Which arguably, are the heart and or primary engine which allows products to be produced in the first place. In these departments improvements can be achieved from 10-40% across many different KPIs such as price, work automation, delays, customer satisfaction and much more – meaning less people can manage a larger volume efficiently.
How would an organisation diversify sourcing?
Many of the directors and partners in our company actually have operational backgrounds before coming to work in technology to solve the problems they personally encountered.
Supply chain diversification can be a very long process and should be approached carefully to avoid any of the associated risks such as quality, supplier and shipment risk among many.
How can technology help aid visibility in the supply chain?
Technology can truly revolutionise how companies manage their supply chains. Visibility is more than just tracking goods at sea or on the road, it's integrating and connecting all the steps before and after with your colleagues and partners, and automatically drafting documents, recommendations and analysis on performance. Most importantly, it is ensuring all parties know their responsibilities and deadlines and automating tasks internally and externally. Meaning, that instead of spending half the day collecting or sharing updates, collection and distribution information, it is all automated. It reduces the hundreds of small tasks happening between inquiry of goods and eventual arrival at POD.
How can digitalisation help shippers meet the changing environment of the supply chain? 
Quite a lot, that is the whole purpose of digitisation – to offer smart tools which help you ensure you are complying with local regulations, that you are shipping with the most environmentally friendly option, tracking your cargo and gaining a detailed overview of your whole supply chain. That is the power of technology, to merge and integrate all these steps and concerns
Combining these types of tools together, and with global trade data which helps you maneuver and navigate, creates the foundation of automating global trade
What are the demands of the consumer today and how does that impact the supply chain?
The consumer demands tracking, container line performance data and in many cases also integration of customs. However, due to risk of sickness with covid more and more are discovering the immense benefits of digital supply chain collaboration and smart accountability and risk management tools.
Do you think we are prepared enough for Brexit, what would you recommend?
Established tradelanes will be redrawn and barriers such as customers will be established. Technology can help keep the advantage of Britain, despite the barriers and risk of trade partners looking elsewhere, but also enable Britain to find new partners and routes.
What do you see for the future of shipping?
Everything in 1 place, easy to use without barriers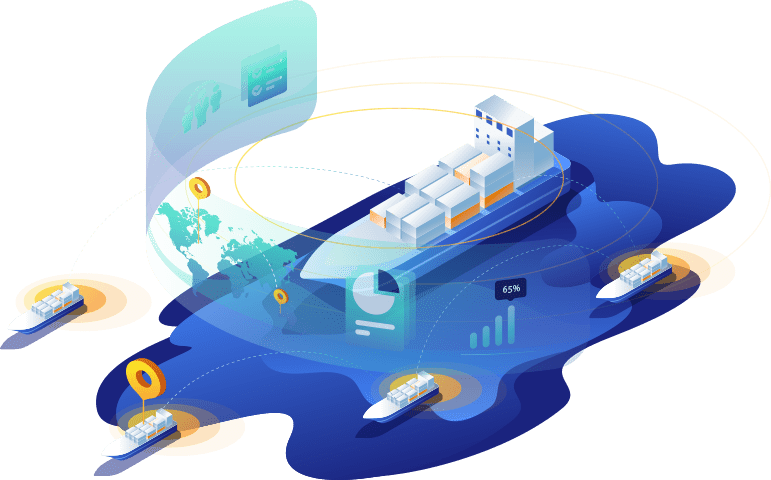 The power of digital supply chain automation
Despite the advancement of technology, surprisingly little has actually changed in global trade, especially in terms of the forest industry. Essentially, computers and the software within them simply provide faster versions of the same old tools—typewriters, fax machines, calculators and mail. For global companies, the conveniences of modern technology has delivered neither the automation of many processes nor their elimination. If anything, processes have become more complex over time and, most surprising, commodity traders are profiting from information and geographic arbitrage today more than ever before. 
Ideally, technology should have already accomplished several ends: 
Delivered automated processes 

Reduced the number of middlemen 

Reduced the incidence of mistakes 

Enabled closer integration to various kinds of partners and institutions 
Unfortunately, a significant amount of time is still spent today on non-value-added processes, e.g., coordinating with colleagues or partners, calculating offers, tendering goods or logistics, sending offers, drafting documents, approving, analysing performance, etc. In the leading industrial companies, our estimates reveal that even these simple tasks take up to 25% of time expended by export and logistics teams. 
Currently, as a result of the coronavirus, we face the biggest challenge in living memory in terms of both continuing business and coordinating it. While difficult for any organisation, this is particularly so for industries with global supply chains and a large network of partners. This makes it doubly important to be able to oversee progress, obligations and deviations, find the most affordable freight rates, and establish new business.
Timber.Exchange's integration with Chamber of Commerce offices in many countries (with more expected) facilitates both digital and electronic applications for documentation. Electronic documents are also offered by some shipping lines, along with  electronic bills of lading. The countries that currently support electronic EUR1 (a movement certificate) and CO (Certificate of Origin) include Sweden, Norway, England, the US, Canada, New Zealand, Australia and Slovenia. Furthermore, banks and Customs offices in most countries accept a combination of electronic and physical documents, either separately or mixed.
To stay up to date on the latest, trends, innovations, people news and company updates within the global trade and logistics market please register to receive our newsletter here.
Media contact
Rebecca Morpeth Spayne,
Editor, International Trade Magazine
Tel: +44 (0) 1622 823 922
Email: editor@intrademagazine.com