This year's International Materials Handling Exhibition (IMHX 2021) will be delivered as a virtual event with the physical show returning in September 2022
The IMHX organisers, Informa Markets and the British Industrial Truck Association (BITA), described the decision to reposition IMHX 2021 as "necessary given current restrictions" but one "that opens a world of new opportunities for participants."
By attending you can:
Explore thousands of the latest intralogistics solutions
Specify, evaluate and assess products in real-time
Grow your business within the logistics and supply chain sectors
At IMHX, businesses showcase their products and services to thousands of logistics and supply chain professionals from a large variety of industry verticals. Taking place every two years, IMHX is the only event of its kind in the UK and is attended by thousands of prospective customers seeking to source new solutions to improve warehousing operations, stay ahead of the latest supply chain trends and grow their professional network.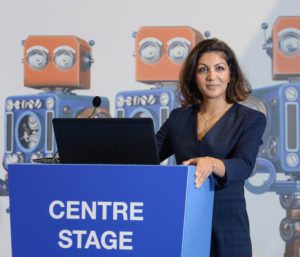 IMHX Connect: 13th – 17th September 2021
IMHX Connect is your online arena for meeting, networking and doing business with professionals from across the intralogistics industry. The entire event is accessed through our online event platform, which uses augmented AI to match you with suggested industry professionals to meet, suppliers to approach and products to source that are relevant to you and your business's needs.
The COVID pandemic has radically transformed the global logistics landscape and IMHX Connect will tackle many of the challenges facing today's supply chains in a packed programme that delivers more than 50 hours of educational content, available both in real-time and on-demand.
With over 100 companies presenting solutions to key issues through a series of presentations, panel discussions, one-to-one interviews, webinars and podcasts, IMHX Connect attendees will hear about the challenges, threats and opportunities facing the logistics industry and receive actionable insights that will enable them to deliver real business benefits to their organisations.
What should we expect from IMHX Connect?
Rob Fisher, Group Director, IMHX, said: "We are putting together a line-up of content that is shaped by our attendees' business goals as well as their current pain-points. Attendees will be part of an inspiring and educational experience that will enable them to generate fresh solutions to apply at their own company.
"For exhibitors, IMHX Connect is the platform that will reach a network of senior logistics and supply chain buyers who influence or make the final decision when purchasing materials handling solutions and services.
"Virtual events have grown in effectiveness and now play a vital role when it comes to generating qualified, in-market, sales leads and IMHX Connect exhibitors are justifiably excited by this brand-new opportunity to build meaningful connections."
What are you excited about?
Tim Waples, Chief Executive of the UK Material Handling Association, stated: "As the economic recovery gathers pace, I am sure buyers of intralogistics equipment and solutions will welcome the chance to get together online at IMHX Connect and judging by the mood and appetite of both sponsors and attendees, IMHX Connect looks set to be a very exciting event."
Russell Holmes, Business Development Manager at Autostore – one of IMHX Connect's sponsors, commented: "By taking part in IMHX Connect we hope to hear about new industry trends and meet with industry leaders to discuss ways that we can support their businesses. With the continued e-commerce boom it is important for us to see what prospective clients require so that we can facilitate those needs with our flexible solutions."
Hanneke van Rooijen from DistriSort said: "During the last 18 months retail and e-commerce operations have faced big challenges in material handling. While retail decreased during the lock downs, e-commerce exploded and presented new challenges and opportunities in picking, packing and expedition. DistriSort helped many customers with this warehouse transformation and we will be using IMHX Connect to highlight how automated sortation technology can improve logistics flows for many companies."
Sherry Law from Geek+ added: "Geek+ will provide insights in to the trends for automation in logistics and the supply chain. We will introduce our AI-driven robotic goods-to-person and bin-to-person solutions and explain how this technology can improve warehouse productivity and accuracy."
How does this impact the physcial show?
Rob Fisher, Group Director, IMHX comments: "IMHX Connect 2021 is the online partner of the International Materials Handling Exhibition (IMHX) – the popular bi-annual live event series. The launch of IMHX Connect is exciting. It adds to our reach and audience engagement opportunities and complements our plans for the next full IMHX physical experience when it returns in September 2022."
To stay up to date on the latest, trends, innovations, people news and company updates within the global trade and logistics market please register to receive our newsletter here.
Media contact
Rebecca Morpeth Spayne,
Editor, International Trade Magazine
Tel: +44 (0) 1622 823 922
Email: editor@intrademagazine.com