For over twenty years both FIATA and TT Club, the specialist insurer for the freight and logistics industry, have championed the development of young professionals in freight forwarding.  Now in its twenty-first year, the Young International Freight Forwarder of the Year (YIFFY) Award has been supported by both organisations in order to promote this mission.  The winner of this year's award, announced on Friday at the FIATA World Congress in Cape Town, is Mrs Evgeniya Khokhlova, who represents the Russian association (FAR) and is a Specialist in Project Logistics for SVH-Freight.
Each year, four regional finalists are selected from multiple entrants located across the world.  They are invited to attend the FIATA World Congress, providing each finalist with invaluable learning and networking opportunities.
The candidates are required to submit a 6,000 word dissertation outlining the pertinent details of an import and export shipment from their native country. The four finalists then present their dissertations in person to a panel of judges at the Congress where the overall winner is selected.
TT Club is proud to have sponsored the award throughout its history and Mike Yarwood, TT Club's Senior Loss Prevention Executive and Chairman of the Award Steering Committee, together with FIATA President, Babar Badat presented the award to Evgeniya at the Cape Town Congress.  As the winner Evgeniya will receive two, one week training sessions with TT Club at one of its regional headquarters in London, New Jersey or Hong Kong.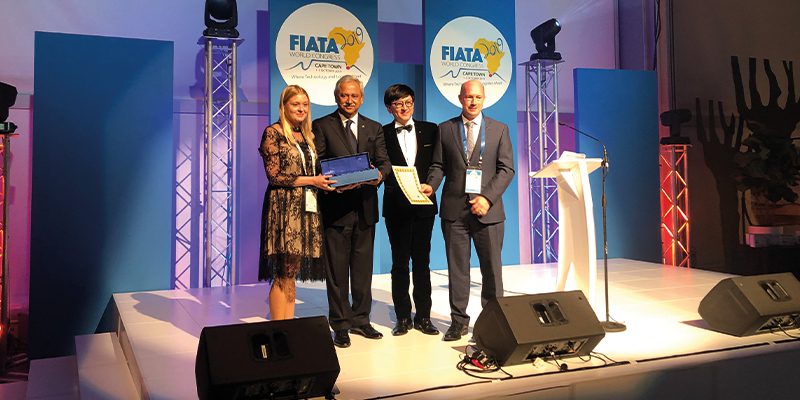 The FIATA Congress, organised in partnership with the South African Association of Freight Forwarders, welcomed over 1,000 participants from around the world.  Attendees at the Gala Dinner also offered their congratulations to the other three regional finalists:
Africa/ Middle East – Mr Enos Chapara, Tracking and Documentation Agent, Bollore Transport and Logistics Zimbabwe Private Limited., Zimbabwe (SFAAZ)
Americas – Ms Rachael van Harmelen, Business Unit Sales Manager at DSV Panalpina, Canada (CIFFA)
Asia Pacific – Mr Phillip Burgess, South Island Manager, Burnard International Ltd., New Zealand (CBAFF)
FIATA's President Badat said, "The prestige of the YIFFY Award has long been recognised.  FIATA values highly the operational excellence that the award represents. We are grateful to TT Club for its sponsorship and thank all the entrants this year and in the past for their enthusiasm. We encourage our member associations to re-double their efforts in putting forward candidates for the 2020 Award and in promoting training and professional advancement opportunities in general."
The TT Club sponsored 2020 YIFFY Award will be presented at next year's FIATA Congress in Busan, South Korea (19th-24th October).