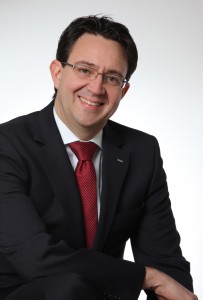 Dachser has created a new central organisational unit, Corporate Solutions, Research & Development, in order to advance its business with global, industry-specific logistics solutions and bundle its research and development activities. Stefan Hohm, an experienced Dachser manager, will head up this new Corporate Unit. He has led the Logistics Centre in Hof for the past seven years.
Hohm and his team will implement worldwide supply chains for customers from focus industries. The new Corporate Unit will also bundle Dachser's research and development activities and will be working closely with the Corporate Unit Corporate Development & Strategy, as well as with Corporate IT. Hohm will report directly to CEO Bernhard Simon. Responsibilities of the new unit also include new and continuing development of value-added services, which complement (upstream or downstream) transport and warehousing in the standardised Dachser groupage network. This includes dedicated services for special customers, industry-specific value-added services, and premium services associated with deliveries to end customers.
Well-established on the market
Dachser has already established two industry-specific solutions in Europe: Dachser DIY Logistics and Dachser Chem-Logistics, which handle six million shipments annually. Ralf Meistes (DIY Logistics) and Michael Kriegel (Chem-Logistics) will continue to head these two departments, which, however, will be assigned to Corporate Solutions, Research & Development. Dachser is combining a great deal of industry expertise in this unit at the global level as well. For example, Dachser Air & Sea Logistics handles shipments for customers from the automotive, fashion, sports, pharmaceutical, and life sciences industries.
"We strive to understand the complex logistics requirements of different industries down to the last detail, develop custom-tailored solutions, and implement them worldwide by way of our effective and efficient standardised networks," says Hohm, Corporate Director, Corporate Solutions, Research & Development.
In his 23 years at Dachser, Hohm has proven himself in several management positions, most recently as General Manager of the Logistics Centre in Hof, where his responsibilities included integrated contract logistics solutions in the European Logistics and Food Logistics business lines.